WisdomTree ETFs and ETPs
updated March, 17th 2021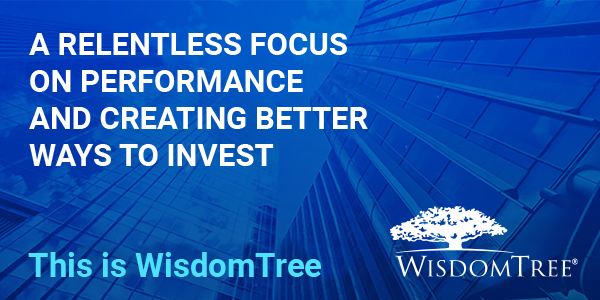 At WisdomTree we do things differently
WisdomTree was established in 2006 with the aim of creating better ways to invest and is now a leading, independent Exchange Traded Product (ETP) provider globally with more than $ 69Bn* in assets under management across innovative solutions that are designed to meet investors' needs across asset classes and market cycles.
Today WisdomTree offers one of the most innovative and comprehensive ranges of ETPs, covering Commodities, Currencies, Equities, Megatrends, Fixed income, Digital Assets and Short & Leveraged.
For more information, please visit wisdomtree.com
*Source: WisdomTree, as of 21 January 2021.


The promotion dedicated to Directa Customers is valid only on purchase orders. The minimum trade value of the order to benefit from the promotion is € 2,500.
The complete list of instruments on which the promotion is active is available here
What we offer to investors
Megatrends - Unlock tomorrow's growth potential
Megatrends are powerful, long-term, transformative changes shaping the world that we live in today. This includes everything from technological advancements to social demographic shifts as well as climate and the environment.
Artificial Intelligence –The megatrend with the potential to change how industries operate and consumers live their lives
Cloud Computing – The megatrend taking the world by storm
Battery Solutions – The megatrend to powerl the future
Cybersecurity – The megatrend to safeguard the digital future
Visit
Megatrends
page
to learn more.
Gold - the original hedge against uncertainty
Gold's role as a hedge against inflation and uncertainty is well established. In recent years, investor interest in gold has increased significantly, particularly since the 2008 Global Financial Crisis. While the macroeconomic outlook continues to be uncertain, we expect investor demand for gold to remain strong.
As the creator of Europe's first gold ETP, WisdomTree is the leading provider of physically-backed gold ETPs' in Europe with the broadest range of gold ETPs, over $ 17Bn in AUM * and an unrivaled experience in the asset class.
*Source: WisdomTree, as of 21 January 2021.
Visit the Gold page to learn more.
Short & Leveraged ETPs
The WisdomTree Short & Leveraged (S&L) family of exchange traded products (ETPs) is one of the most comprehensive and innovative ranges of specialist S&L ETPs in the world. Our extensive Short & Leveraged platform offers a range of fully collateralised ETPs which are available in leverage factors between -5x and +5x.
S&L Heatmap
7 things to remember when investing in Short and Leveraged ETPs
S&L ETP Monthly Flows Report
Economic Calendar
Market News
Visit the
S&L Centre
to learn more
Metals - A solid choice for today, tomorrow and thereafter
Metals (such as Copper, Silver or Nickel) present unique tactical, strategic, and thematic opportunities. The most exciting and evolving avenue of metals investing lies in their use in growing technologies and themes, such as:
5G
Electric Vehicles
Power Generation
Visit the
metals page
to learn more
WisdomTree INSIGHTS
For in-depth and timely market commentary and educational content, visit the following WisdomTree resources
This material is prepared by WisdomTree and its affiliates and is not intended to be relied upon as a forecast, research or investment advice, and is not a recommendation, offer or solicitation to buy or sell any securities or to adopt any investment strategy. The opinions expressed are as of the date of production and may change as subsequent conditions vary. The information and opinions contained in this material are derived from proprietary and non-proprietary sources. As such, no warranty of accuracy or reliability is given and no responsibility arising in any other way for errors and omissions (including responsibility to any person by reason of negligence) is accepted by WisdomTree, nor any affiliate, nor any of their officers, employees or agents. Reliance upon information in this material is at the sole discretion of the reader. Past performance is not a reliable indicator of future performance.